Resurgence Leadership Nights
Sept. 26, Oct. 30, Nov. 28. 7:30PM. All are welcome.
Join the Resurgence community as we expect to experience the power of God together! We Are Resurgence: We are a community made of youth, young adults, and adults from across the Edmonton Capital Region. We gather from various backgrounds, churches, and denominations with a single desire to encounter God. It is the heartbeat behind every gathering or event we hold. One of our core pillars is to "Release Leaders" and we believe that there is a leader in every chair. Join us in growing in Christ-like leadership together.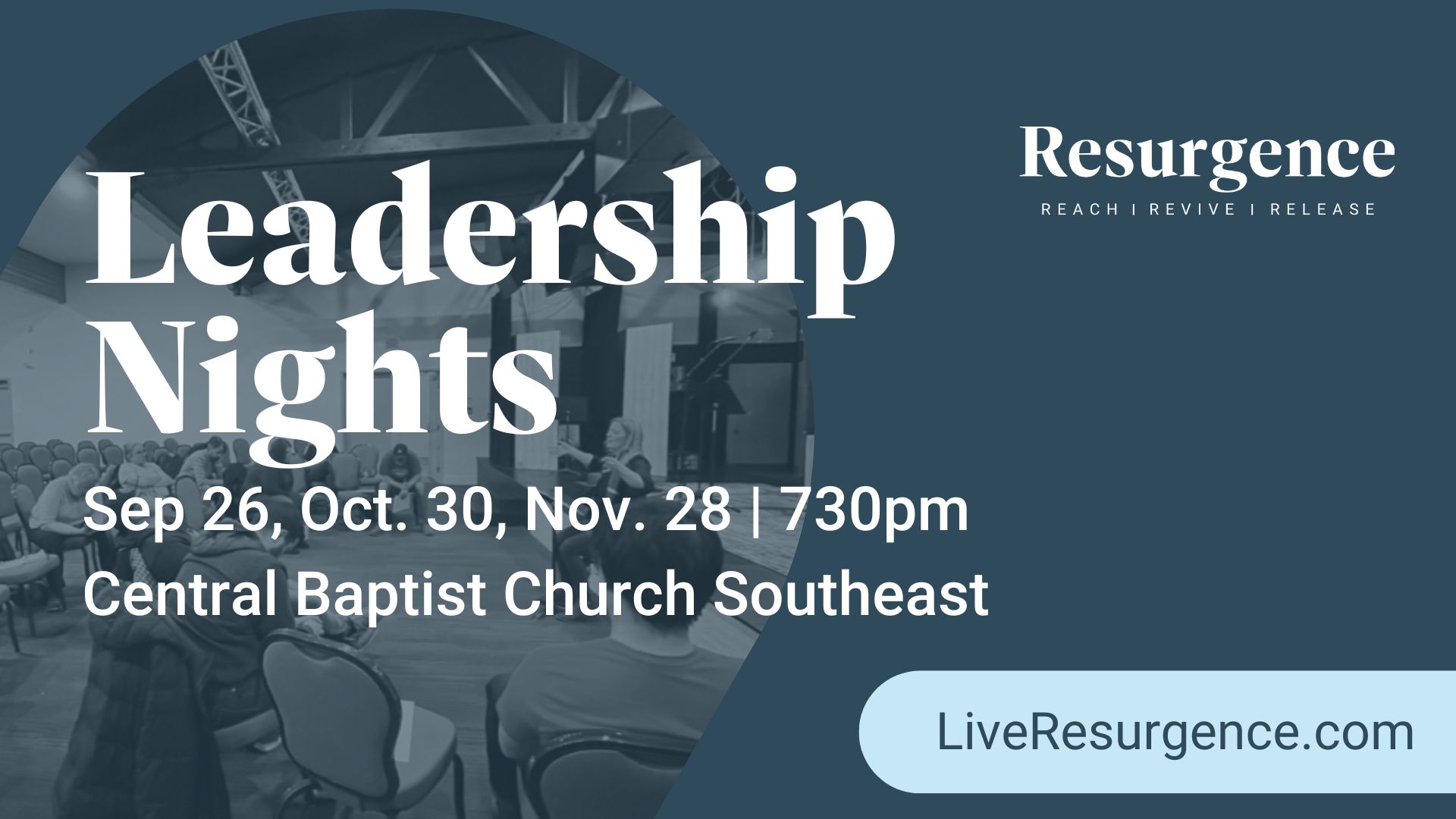 Resurgence Leadership Nights
September, 26, October 30, November 28 at 7:30PM.
Central Baptist Church SE.
4357 Savaryn Dr SW, Edmonton, AB T6X 2E8

About
Join us for these special evenings dedicated to equipping, empowering, and connecting leaders.  We are thrilled to invite you to these nights where we will delve into the character of a leader, foster meaningful connections with our dedicated Resurgence Leaders, engage in heartfelt prayer and worship, and explore exciting opportunities to play a more active role.
Resurgence is a vision that has been close to our hearts since 2008, and it was always meant to be a ministry led by a united team. Over the years, we've cultivated a warm, passionate family of individuals committed to leading together, and we're excited to extend our invitation to you.
Does your heart beat in sync with the Resurgence vision? Are you curious to learn more about what Resurgence stands for? Do you aspire to forge connections with our exceptional leaders and become a valued member of our extraordinary community? Are you eager to discover ways in which you can contribute to our remarkable journey? If you answered yes to any of these questions, then these enchanting evenings are tailor-made for you. Join us and be a part of this transformative experience… The dream involves you.
Subscribe to our Event Calendar
Automatically sync your smartphone to the Resurgence Calendar and you will never miss a Resurgence Event.
Subscribe