Gather & Pray Edmonton
October 10-14, 2023
We are excited to be hosting a week long event called "Gather and Pray" where we will be calling the city of Edmonton to a unified expression of prayer, worship, and fasting. We will be meeting at a different Church each night of the week and feel that it will be a significant time for our city and those who attend. We are 'one body made up of many members' and we feel it is significant for the family of God to be united in prayer at this time!
Click here to access the Gather & Pray 2023 Devotional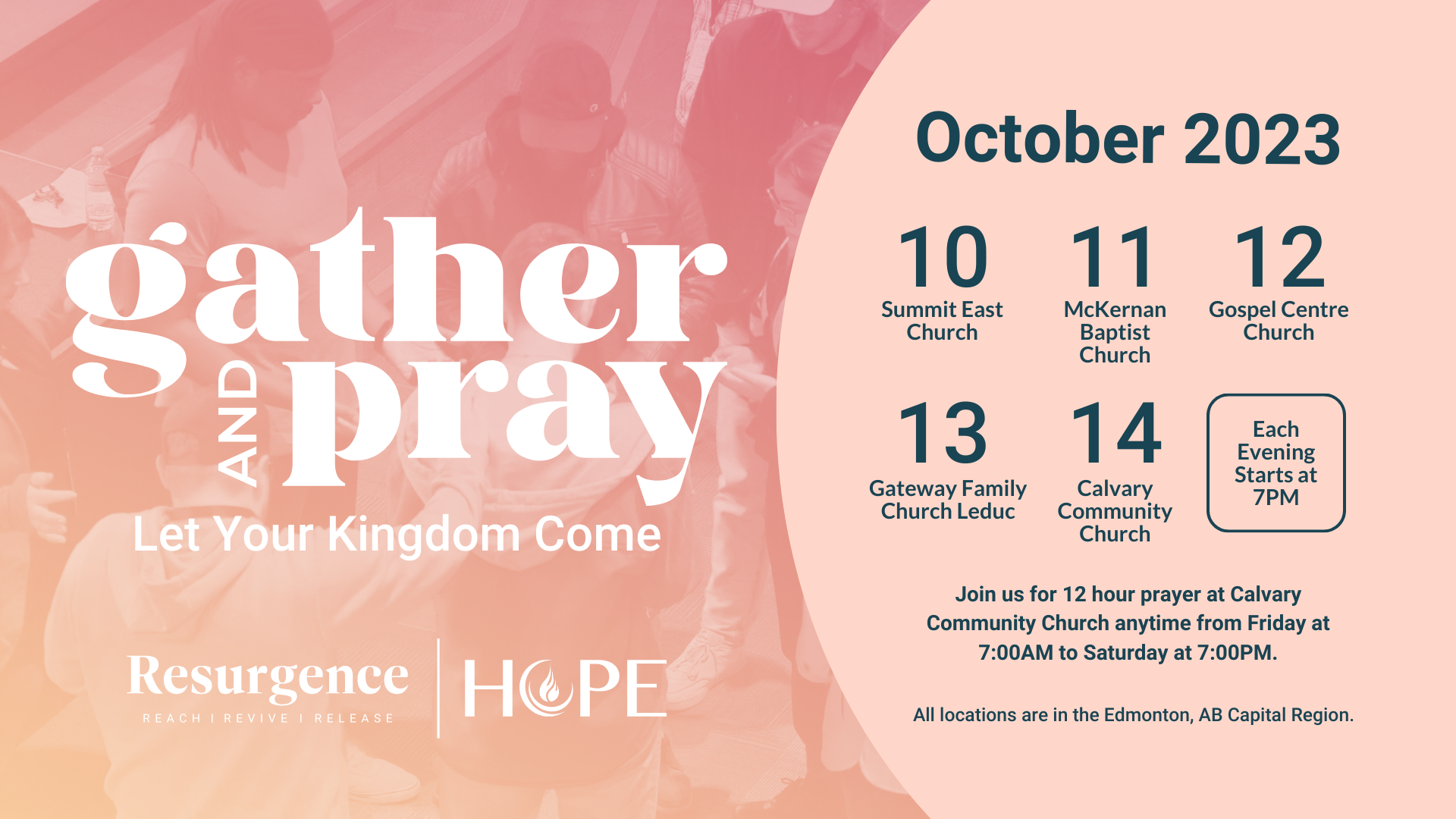 Calling the Edmonton Capital Region to a unified Expression of Prayer, Worship & Fasting.
Gather & Pray 2023 will be held at various churches across the Edmonton Capital Region. Each of the weeknight gatherings will consist of worship led by the host Church's band, a unified prayer theme, different prayer elements, and opportunities to connect with believers from across the region. Each of our prayer meetings will begin at 7PM.
The Saturday night meeting will also function as the Resurgence Edmonton Gathering for October. This will be a prayer rally with a time of extended worship, a short teaching, and various opportunities to pray for the city.
Gather & Pray is hosted by House of Prayer Edmonton (click here to check out their website) and Resurgence Initiatives in partnership with many local Churches, pastors, and ministries.
Host Churches:
(click on the link for a map)
12 Hour Extended Prayer (7:00AM-7:00PM Saturday, Oct. 14)
Calvary Community Church Freedom House of Prayer
8704 Millwoods Road NW.
Devotional Resource
We have created a devotional resource for you to be a part of Gather & Pray during each day leading up to the prayer meeting. We also wanted to give a resource to believers in Edmonton that will unite our hearts and prayers. This free resource contains daily scripture readings, a short devotional that is consistent with the theme for each day, a few discussion questions, and ways you can be praying around each theme specifically.
Click here to access the devotional resource. 
2023 Theme: Let Your Kingdom Come
The team who is planning Gather & Pray for this year took time to discern some of the different prayer themes for each day. As we were doing this, one of the team members posed the question: "what is the groan or heart cry of our city?" This question led us to the Lord's prayer, where Jesus taught His followers to pray: "Let Your Kingdom come, let Your will be done, on Earth as it is in Heaven." The deep cry of our heart's is to see the fullness of the Kingdom of God breaking into every part of our city. To this end, our daily themes will be congruent with this overarching 'groaning' as we pray for different elements of God's Kingdom to be present in our region in an increasing measure.
12 Hour Prayer Component
We are excited to announce that this year's Gather & Pray will have a 12 hour prayer component on Saturday, October 14 from 7:00AM to 7:00PM. These prayer meetings will take place at Calvary Community Church (the host site for Saturday night) in their "Freedom House of Prayer which is located just north of the main Church building (look for signs when you arrive).If you are interested in being a part of this or leading a section of prayer, please fill out our contact form and we will be in touch with you.
As you can see in the photo below, the Freedom House of Prayer is directly north of the Calvary Community Church main building.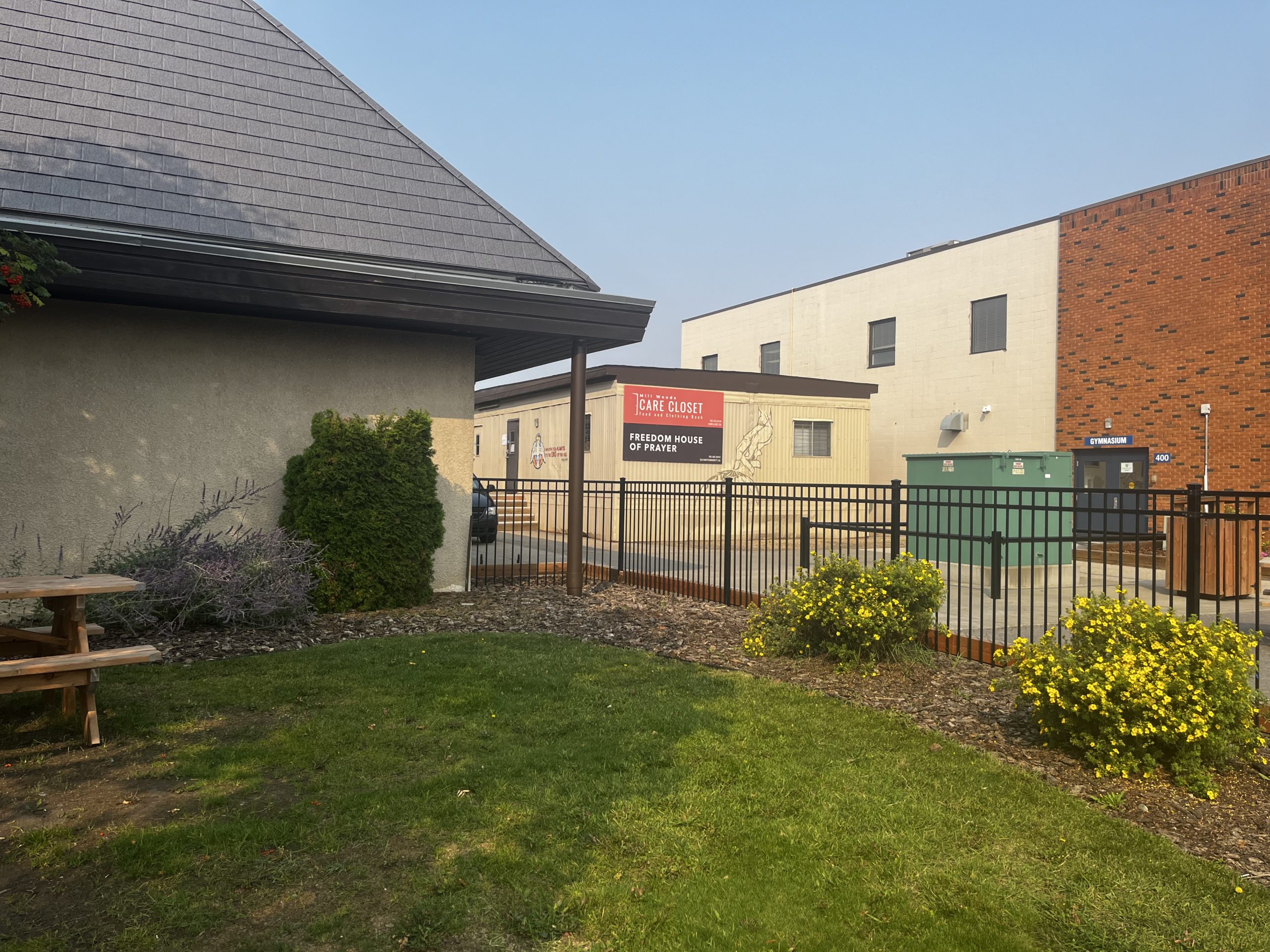 Subscribe to our Event Calendar
Automatically sync your smartphone to the Resurgence Calendar and you will never miss a Resurgence Event.
Subscribe