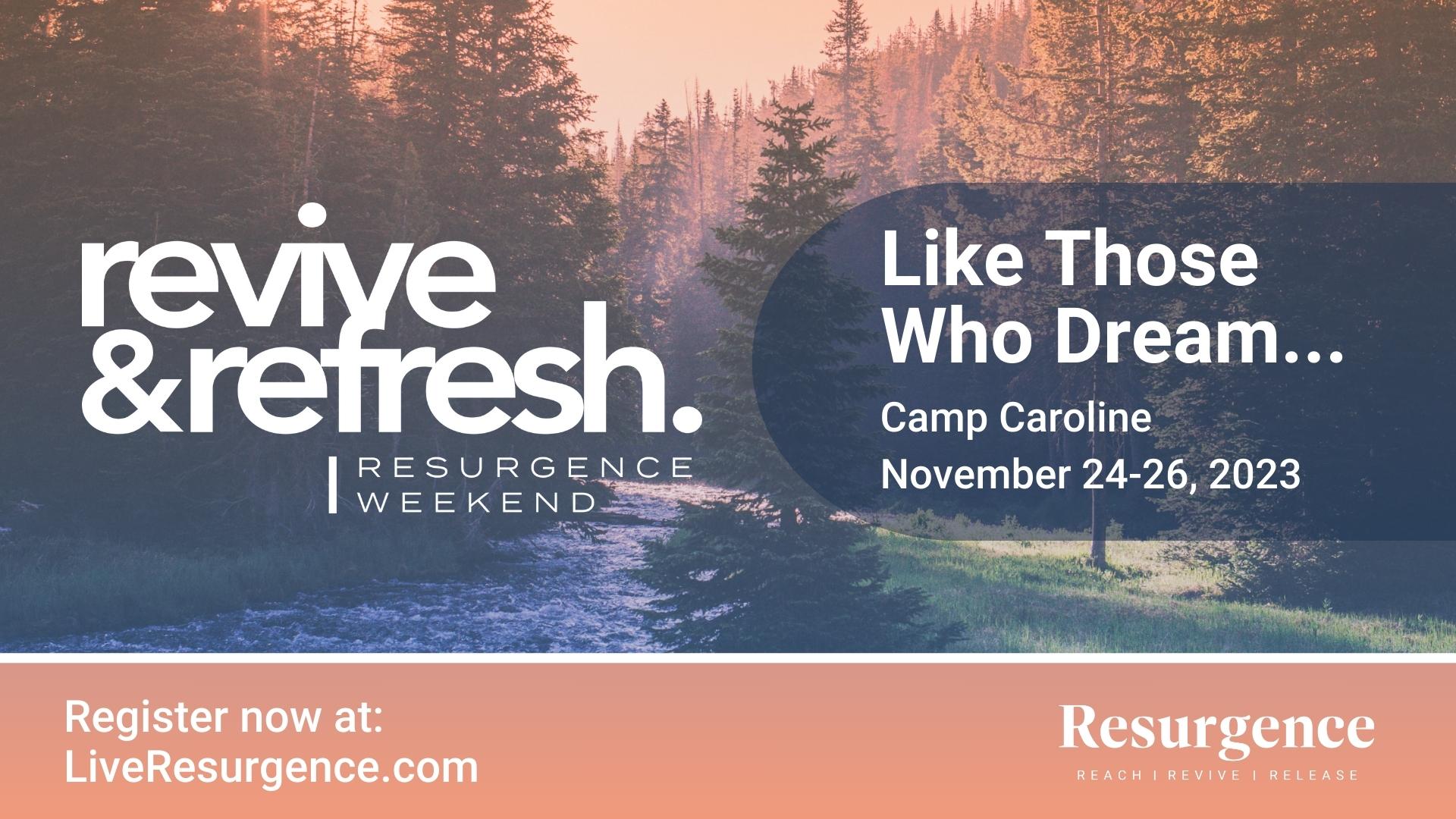 Resurgence invites you to a weekend away to "Revive & Refresh" in our God given purpose; in understanding our identity as sons & daughters; and in our personal intimacy with the Holy Spirit.  Experience safe vulnerability within a community that is hungry for the presence of God. This weekend is about encountering Holy Spirit who heals our hearts, equips us for our purpose, and sends us out.
We are excited to have Pastor Ben Johnson, Travis Holownia & members of the Resurgence Lead Team speaking. Worship will be lead by our Resurgence Worship community.
Camp Caroline is one of the best camp facilities in Alberta with a pool, gym, and hot tub! This is a must attend weekend.
2023 Theme: "And Like Those Who Dream"

Psalm 126:1 says, "We were like those who dream." As we've been praying for our weekend together, we've felt something special in the air. This weekend is all about reviving our old dreams, embracing new ones, and letting God ignite our passions and purposes. The world has been through some tough times lately, filled with fatigue, division, and challenges. But now, it's time for us to dream again and watch as God reveals His incredible plans and purposes for each of us.
Schedule:
Friday, November 24
6:45  Arrive at Camp Caroline/ Check-in
7:30  Session 1
Saturday, November 25
9:00 Breakfast
10:00 Session 2
12:00 Lunch
1:00 Afternoon Breakout Sessions/Activities
5:15 Supper
7:00 Session 3
10:00 Late night activity
Sunday, November 26
9:30  Breakfast
10:45  Session 4
12:45  Lunch
Registration and Accommodation Options:
Registration for Revive & Refresh: Resurgence Weekend includes 5 meals, accommodations, and also a special piece of Resurgence Merch!
Accommodation Details:
Creekside – (Dorms with up to 8 people, Washroom at end of Hall)
Aspen – (2 People Occupancy up to 4, Washroom in the room)
Earlybird [Sep 16 – Oct 27]
Creekside – $199
Creekside Student Pricing – $170
Aspen/Hillside – $220
Regular [Oct 28 – Nov 10]
Creekside – $219
Creekside Student Pricing – $190
Aspen/Hillside – $240
Last Minute [Nov 11 – Nov 23]
Creekside – $229
Creekside Student Pricing – $200
Aspen/Hillside – $260

*Limited number of married couples & family rooms available. Register early to get a spot!
**Sponsorship – If you are able to pay for a registration for someone to attend the Advance, that would be amazing! If you are in need of financial sponsorship to be able to attend, please let us know. Email info@liveresurgence.com.
Subscribe to our Event Calendar
Automatically sync your smartphone to the Resurgence Calendar and you will never miss a Resurgence Event.
Subscribe