Gather & Pray Monthly
September 19, November 14, December 12.
We are excited to be hosting a monthly expression of "Gather and Pray" where we will be calling the city of Edmonton to a unified expression of prayer and worship, in partnership with House of Prayer Edmonton. We will be meeting at Laurier Heights Baptist Church (7:00PM Start) and we feel that it will be a significant time for our city and those who attend. We are 'one body made up of many members' and we feel it is significant for the family of God to be united in prayer at this time!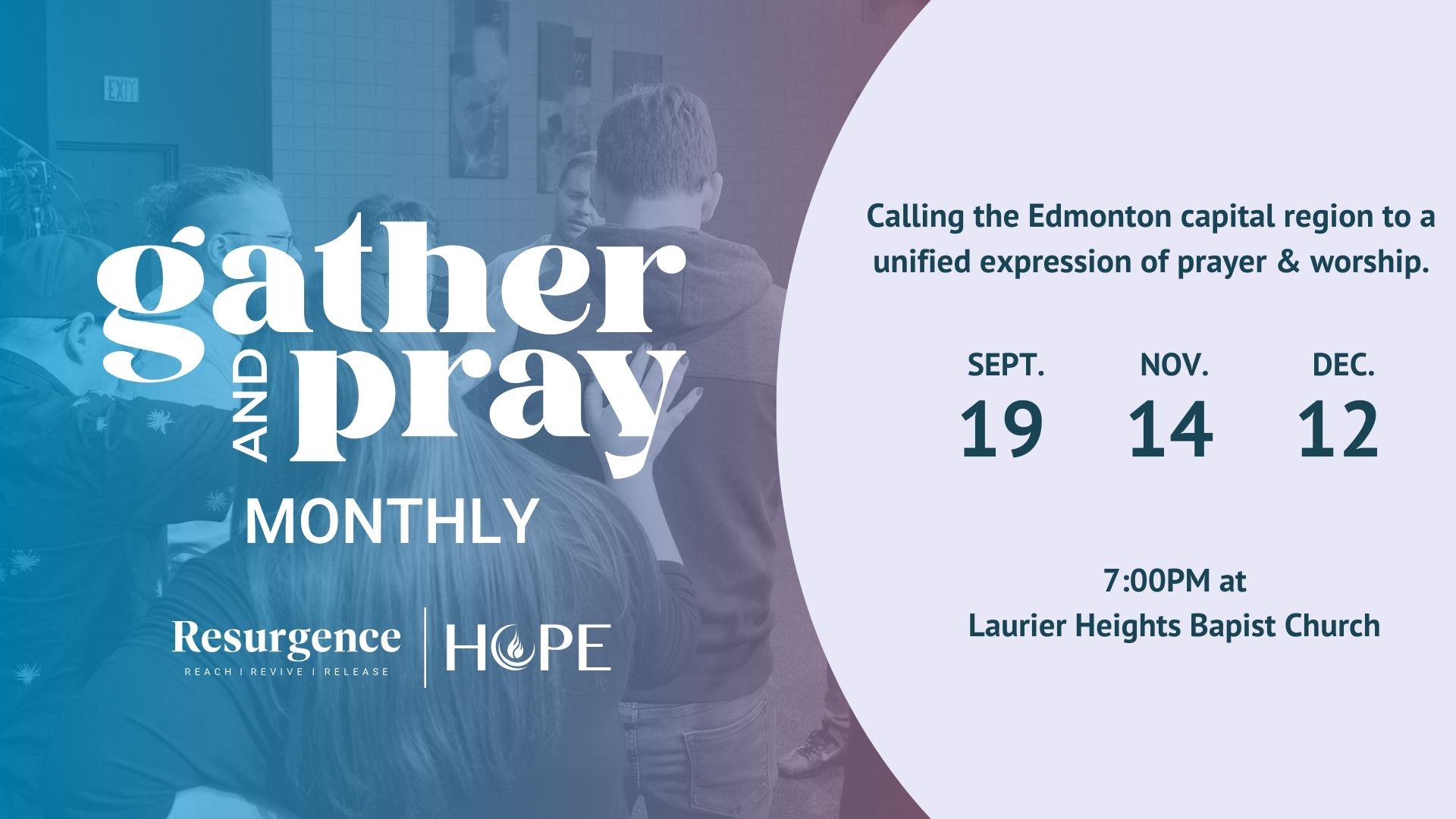 Calling the Edmonton Capital Region to a monthly unified Expression of  Prayer & Worship
Gather & Pray is an initiative that House of Prayer Edmonton (www.hopedmonton.ca) and Resurgence initiatives have partnered on in the past. Both of these ministries have been praying for Capital Region and believing for a move of God in this city for over 15 years. Partnering together on Gather & Pray felt quite significant, so, as leadership teams, we discerned that we wanted to partner together more consistently.
We will be holding a vision and prayer meeting for this event (and the large Gather & Pray event) on September 19, 2023 at Laurier Heights Baptist Church and beginning this expression monthly in November of 2023 (beginning in November, we will meet the 2nd Tuesday of every month in the sanctuary at Laurier Heights).
These prayer meetings will focus on:
Worshipping together in unity.
Praying for the Church in our city and pastors/leaders.
Praying for our ministries as they seek to expand in Kingdom impact.
Praying for people in our city to come to know Jesus & revival in Edmonton.
Current issues and events.
Providing an opportunity for guest to be prayed for and pray for another.
Please join us.
September 19: Prayer & vision night.
October 10-14: Gather & Pray (Click here for more information)
November 14: Gather & Pray Monthly Launch
December 12 (2023), January 9 (2024), February 13, March 12, April 9, May 14.
All monthly events will take place place at Laurier Heights Baptist Church (8505 142 st. NW Edmonton) at 7:00PM.
All are welcome to join us for this significant event!
Subscribe to our Event Calendar
Automatically sync your smartphone to the Resurgence Calendar and you will never miss a Resurgence Event.
Subscribe