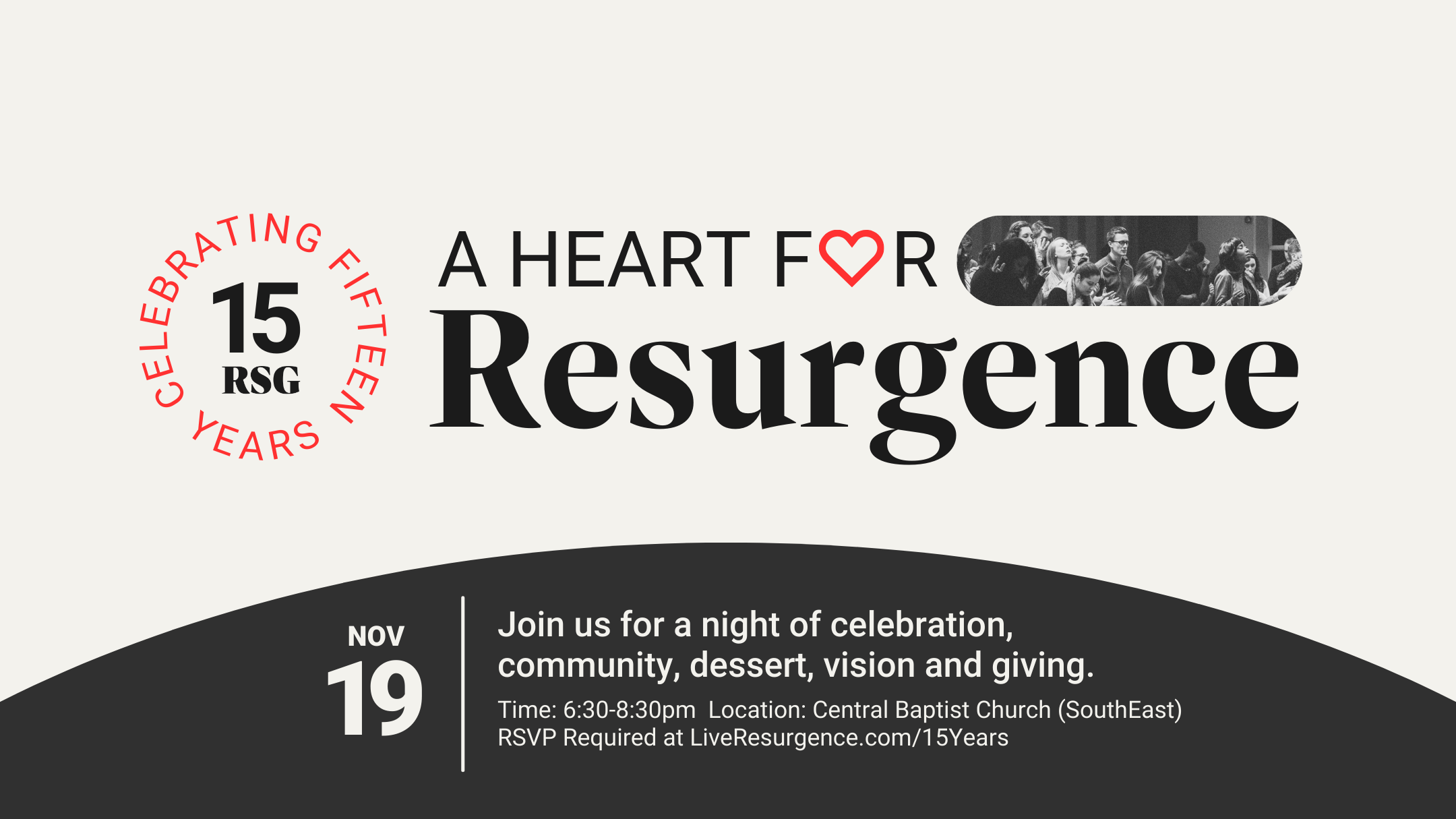 Celebrate 15 Years of Resurgence – Join Us for Dessert Night!
Can you believe it's been 15 remarkable years since Resurgence embarked on its journey? We've come a long way, and it's time to celebrate together! We are inviting you to our "A Heart for Resurgence" 15 Year Celebration Night on Sunday, November 19, 2023, at Central Baptist SouthEast Campus from 6:30pm-8:30pm.
This evening is dedicated to good company, delectable desserts, and sharing our vision for the future. Here's what you can expect:
Celebration: Let's reminisce about the incredible journey of Resurgence over the past 15 years.
Community: This is the perfect opportunity to connect or reconnect with our Resurgence family, make new friends, or reacquaint with old ones. If you have friends who share the heart of Resurgence or would benefit from knowing more about us, please invite them. We believe in kingdom expansion – so please invite others who share our vision.
Sweet Treats: Desserts, anyone? We've prepared a delightful spread to satisfy your sweet tooth.
Vision: We'll discuss our exciting plans for the future and how you can be a vital part of bringing them to life.
Giving: Learn about the impact we've made and how you can contribute to the future of Resurgence. One of our celebration goals is to raise an incredible seed towards Resurgence's future. You can find more details about our fundraising campaign. Click here to GIVE and find out about our 15 year CAMPAIGN…
Stories: We want to capture the heartwarming moments and the impact God has had on your life through the ministry of Resurgence. We'd love for you to take a moment to share your memories, testimonies, or stories that have touched your life.  Click here to SHARE your story…
We're incredibly thankful for sponsors (a few spots left) generously covering the expenses for this event, making it possible for everyone who wishes to attend. All funds raised will go towards increasing Resurgence's impact now and in the future.
Please join us for this special evening. Kindly RSVP by November 16 at Midnight, and don't forget to share your stories by November 3rd.
Let's celebrate the past, embrace the present, and eagerly anticipate an even brighter future for Resurgence.We look forward to seeing you there!
Subscribe to our Event Calendar
Automatically sync your smartphone to the Resurgence Calendar and you will never miss a Resurgence Event.
Subscribe