We invite our Resurgence community to a time of seeking more of God and positioning ourselves to hear His voice.  Resurgence is a lifestyle that seeks to witness the Holy Spirit awaken His children across the kingdom. Prayer is the foundation of everything we do at Resurgence, and Prayer & Fasting are components of the Christian walk that empower us to be aligned with what God is doing.  
Resurgence's heart is the cry of Psalm 85:6, to see revival in our day: "Will you not revive us again, that your people may rejoice in you?"  As we journey into our 10th year as a movement, we believe God is continuing to establish our mandate of revival.  Malcom McDow & Alvin Reid state that "before revival ignites a nation, it first ignites a leader." We invite you to be ignited –  to cut out the worldly distractions over these 5 days and allow your main focus to be a hunger for Jesus. Through this time of Prayer & Fasting, we expect to hear testimonies of personal, corporate, and national breakthroughs by the outpouring of His abundant mercy and grace.
Over these 5 days, we ask that you consider sacrificing food, entertainment, media, time, etc. to set your focus on God.  Choose something that you can commit to and set it in your heart to be faithful to. Ask God for grace on what you can give to him trusting that He will see you through and reward you for your hunger for his presence.
— Corporate Prayer Gathering —
It is important that we are intentional in setting up time daily for prayer and reading of the Word to receive what he wants to give.  We ask that you would join us in corporate and personal prayer during this time.
We will be gathering to pray for breakthrough over the areas to which God has opened our ears for this coming season.  Join us each day at 7:30pm at Knox Evangelical Free Church as we lift up everything God has called the ministry of Resurgence to carry!
Knox is in Old Strathcona, north of Whyte Avenue on 104th Street (Calgary Trail South), just north of the Library and next to the TransAlta Arts Barns.  The entrance to the church is on the West side of the building (next to the wheelchair ramp).  You can find the location of the church here.
Parking: The lot on the north side of the church will be available for free parking from 7:00PM-Midnight each night. Street parking in the area is also free after 6PM.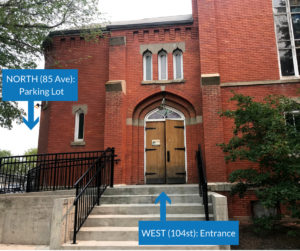 —Sign Me Up —
If you want to commit to Praying and Fasting during these 5 days, let us know you are doing so by subscribing to our Facebook Event.  Each day we will be posting teachings and areas of focus for us to pray into.
— Resources on Prayer & Fasting —
"If you then, evil as you are, know how to give good and advantageous gifts to your children, how much more will your Father Who is in heaven [perfect as He is] give good and advantageous things to those who keep on asking Him!" – Matthew 7:11 (amplified)
God is always has more in store for us but will we believe Him and forsake all else to receive it? Jesus openly declares that the Father will reward fasting (Matthew 6:6). This can happen in different ways:
Externally – God's power can touch your circumstances.
Internally – God's power touches our hearts as we encounter him.
Eternally – God's power touches our lives in many ways, some of which affect other people, destinies and the heavenly realms with eternal implications!
The purpose of this fast is to grow closer to God and to invite Him more into our lives. By fasting we position ourselves to receive more from Him and to more easily cooperate with His spirit.  If you're looking for a bit more information on fasting, we recommend the following resources:
The Jesus Fast by Lou Engle and Dean Briggs – Fasting Preparation Tips
IHOPKC – Fasting Guidelines and Information
Campus Crusade for Christ – Fasting
Dan Mohler: The Atomic Power of Fasting