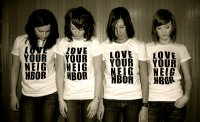 In October 2008 at re:surgence – Edmonton,  four young professionals were impressed upon by God to go and follow the dream they had to show God's love in foreign places. They left their jobs as nurses, marketing professionals, and as a physical trainer and went for 6 months to touch the soil in South Africa, India, Thailand, and probably some other nations not known! In February 2009 they left Canada going out volunteering, serving, doing whatever was needed under the umbrella organizations of "Hands at Work" and "Mission of Mercy", but primarily they went to LOVE people; thats the motive underneath it all and thats what is driving us to drop everything and go.
These four girls serve as an excellent example of living a lifestyle of re:surgence.  It is a call to go!
re:surgence had the incredible opportunity to donate towards their trip.
Here is the video discussing the purpose of their trip: